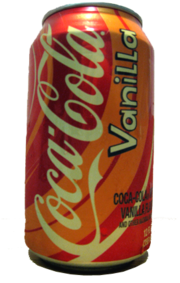 Coca-Cola Vanilla is a vanilla version of Coca-Cola.
More Info
Edit
Coca-Cola Vanilla is the limited relaunch of the formerly produced Vanilla Coke soft drink from the early 2000s to compete with Pepsi Vanilla.
Vanilla coke was introduced to the United Kingdom in 2002. Unfortunately, sales of the drink were poor and Coca Cola was not making enough money from selling the drink in The United Kingdom. In 2006, Coca Cola decided to end sales of Vanilla coke in the UK. In 2011 and 2012, Coca Cola announced "We have had thousands of enquiries whether to bring Vanilla Coke back to the UK. We are getting so many, it is unbelievable. Maybe we should re launch it". In the end of 2012, Coca Cola also announced that Vanilla Coca Cola will be available in the United Kingdom in 2013 with the same packaging as from 2002-2006, when it was available.
Ordinary Coca-Cola already contains small amounts of vanilla. The history of adding additional vanilla flavoring to Coca-Cola, at least in the US, dates back at least to the 1940s when local soda fountain workers (soda jerks) would upon request add a "shot" (roughly a couple of tablespoons) of vanilla syrup to a (12-16 oz) Coca-Cola fountain soda. For decades, this remained common practice in ice cream shops where vanilla syrup and Coca-Cola were both available. The Coca-Cola Company first tested a Coca-Cola blend with extra vanilla flavoring at the 1982 World's Fair in Knoxville, Tennessee. After the introduction of Cherry Coke and the failure of New Coke, the company was hesitant to introduce anything radically new. It was not until early April 2002 that rumors began to circulate that the company was planning a new variation to their classic soft-drink. The Coca-Cola Company was tight-lipped regarding the details of the new beverage, commenting to a London-based newspaper, "We've always got a number of things in development," leaving open speculation for what was to develop. It was later revealed that testing for a vanilla flavor had been completed and that the new beverage would be available in months. However, in late April 2002 the company announced that Vanilla Coke would be produced as early as May. Following its discontinuation, Coke CEO E. Neville Isdell confirmed in an interview with an Atlanta newspaper the return of Vanilla Coke.
The company began mass-producing Vanilla Coke on 15 May 2002. Later that year, it was introduced to the Norwegian, Swedish, and Icelandic markets of Europe. This was the first Coca-Cola variety introduced in Norway since Coca-Cola itself in 1937 and Coca-Cola Light in 1983. As of 2003, Vanilla Coke was marketed in several European countries as well as Australia and New Zealand (in mid-to-late-2002). By late 2003, the company had marketed Vanilla Coke in over 30 countries around the globe.
Nutrition Facts
Edit
Average quantity
per 12 oz
(~355 mL)
per 100 mL
(~3.4 oz)
Energy
150 calories
44 calories
Protein
0 g
0 g
Fat, total
0 g
0 g
- saturated
0 g
0 g
Carbohydrates
41.3 g
11.0 g
- sugars
40.9 g
10.9 g
Sodium
35 mg
10 mg